【2-in-1 Air Purifier and Tower Fan】AIRMATE oscillating tower fan ensures effective airflow distribution in the room thanks to its 60°/120° wide angle oscillation and 180m/min velocity. You can also enjoy clean air within 12 minutes with the inbuilt Airmate HEPA Air Purifier that refreshes air 5x per hour even in rooms as large as 219 ft².
【Ideal for Allergies and Pet Owners】AIRMATE air purifiers avoid using UV-C light, an air-purifying method that produces harmful ozone and secondary pollution based on research. True HEPA filter captures 99.9% of particles as small as 0.3 microns, such as dust, smoke, pollen, etc. Breathe freely as the active carbon filter reduces formaldehyde and odors from pets, smoking, and cooking.
【5 Models & 24 Speeds】Stay cool during hot summer days! Choose from 5 modes (Turbo, Soft, Natural, AI Breeze, and Jet Flow Wind), and 24-speed levels according to your preference. The AI Smart Wind feature helps you adjust fan speed according to room temperature. Compact and portable, you can easily carry it to your bedroom, study, or office.
【Bladeless Fan Technology】This floor tower fan provides fresh air without rotating blades, its leafless design will not hurt pets and babies. It provides a well-dispersed gentle breeze instead of the old-school jet-focused airflow and covers up to 590 sq. ft. It's also easy to clean, just wipe the surface with a rag.
Bladeless DC Fan Power: 48W Updated 49W
Noise: 35-62dB(A) Updated
Innovative three-channel air duct design
Segmented swing head
Activated carbon HEPA filter to remove formaldehyde,
1-24 gears (normal wind/sleep wind/AI intelligent temperature sensor/turbine wind)
Operate the top ambient light individually
remote control
Air volume: 18m³/min
Wind speed: 180 m/min
Noise: 60(dB)
Product size: 253*260*1150mm
Color box size: 1200*300*310mm
Outer box size: 1250*350*365mm
Net weight: 7.6kg
Gross weight: 7.8kg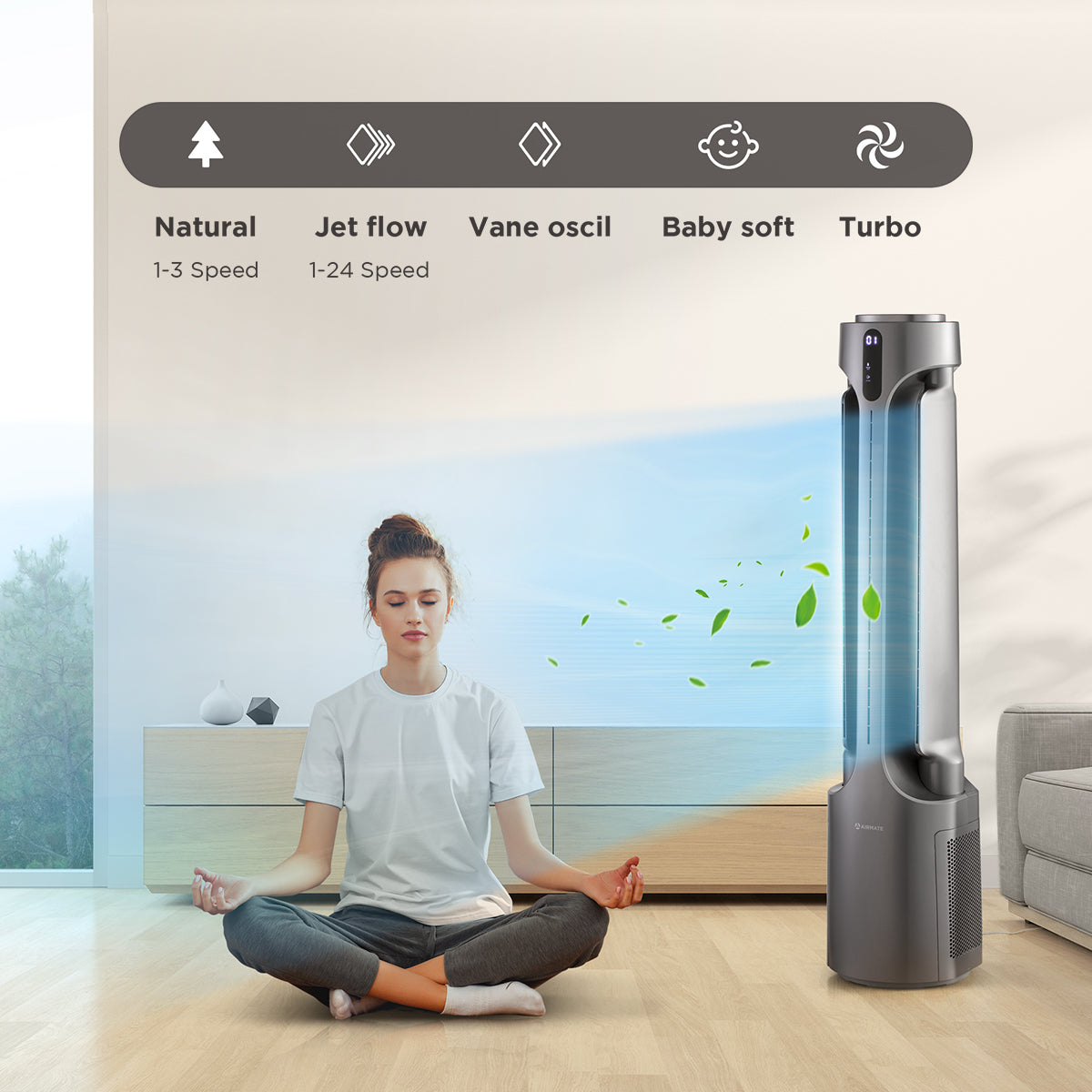 5 MODES & 24 SPEED OPTIONS
Customized to meet all your air circulation needs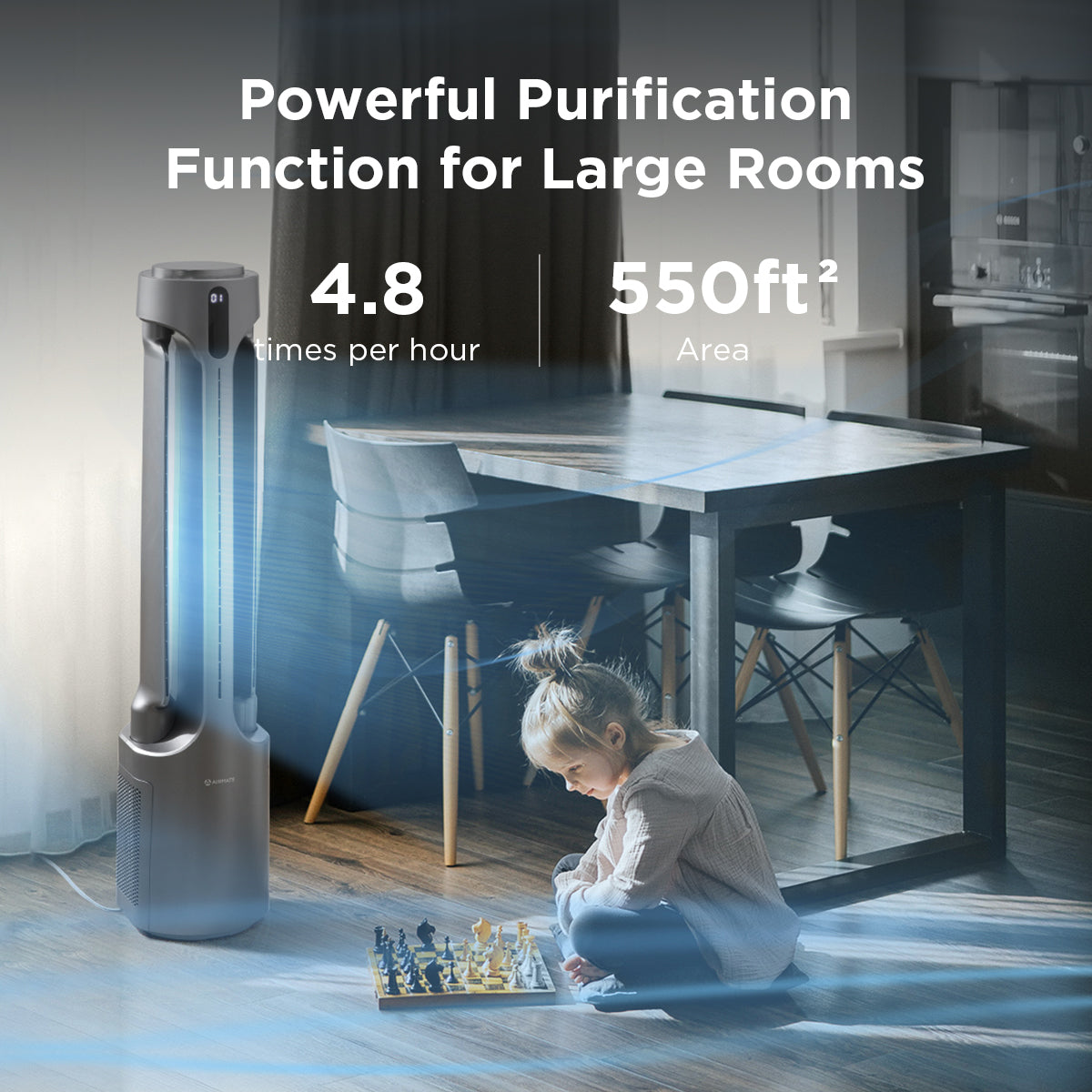 POWERFUL PURIFICATION
Filters air approximately 4.8 times /h in a 550ft² room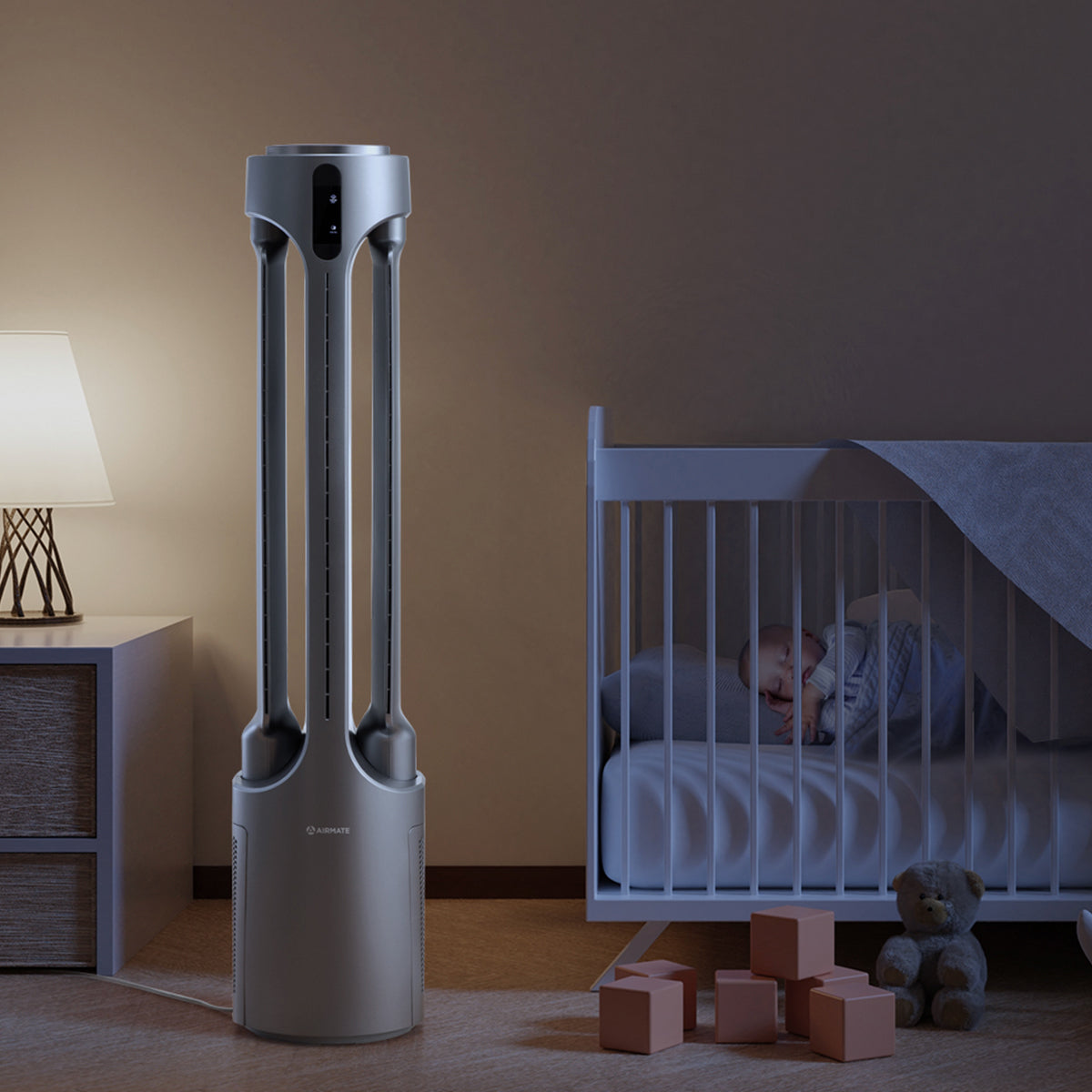 Baby soft BREEZE
This comfortable breeze is child-friendly and provides a gentle cooling experience.
3-STAGE FILTRATION
>150ft² Filter Area
>99.97% Elimination Rate
<0.3um Particle Size